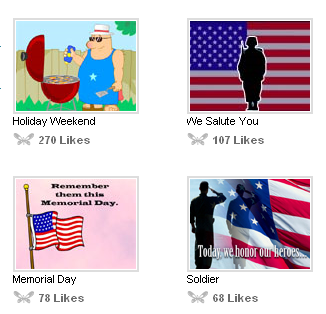 This weekend promises to be absolutely SIZZLIN'!!!
I mean, what with the long weekend, the fine spring weather and May being National Burger Month, it stands to reason that there will be a lot of festive BBQing this weekend. Make that a veggie burger for me, loaded with pepperjack cheese, grilled onions, mustard, ketchup, pickles, lettuce and tomato. Pickle on the side (far from the fries) please!
In between bites, take a moment to wish friends and family a fun extended weekend with this humorous Memorial Day Weekend eCard. After all, there's absolutely nothing wrong with kicking back and relaxing for a few days. We all work hard and deserve some R&R.
But let's also remember we should also take at least a long, serious moment to respect the real reason that Memorial Day is a national holiday. On Monday (and hopefully every day, really), we honor the men and women who have sacrificed to protect us. MyFunCards offers several sincere Memorial Day eCards that honor the members of our military. Spread the good word by sending them out or posting them to Facebook.
Hugs!
P.S. Enjoy your weekend!
(
1 votes, average: 2.00 out of 5, rated
)
Loading ...