Polls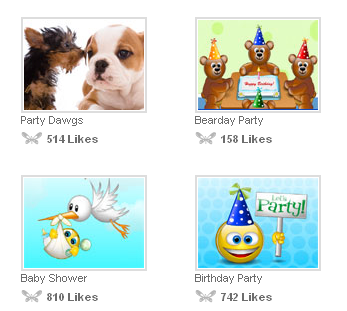 Planning an event can be a lot of work. Asking friends and family to attend should be the easiest part!
We at MyFunCards are working on a brand new series of invitations and we'd like to invite you to help shape what we'll be working on.
We've got a few specific questions to ask and we'd love it if everyone could take a quick minute to just vote in the next few polls. They're super-straightforward and they'll really help us a lot to give you exactly the kinds of things you want and need when it comes to eCards.
If you've got some strong feelings or great ideas, we'd love to hear those, too. Feel free to comment below to tell us more about why you answered the way you did or to give some other kind of information that will help us help you. But back to these polls…
First, well, this is a pretty obvious question.
Loading ...
If you answered no, it's not likely you'll want to answer any more questions. But, hey, all input is certainly welcome. You can certainly continue if you'd like to clarify what would make you change your mind.
Next, we're not only discussing big this project is going to get, we're talking about all the different ways we receive invitations.
Loading ...
Finally, there are tons of types of invitations that people tend to send. We're wondering what are the gatherings you host for which you'd like to see more MyFunCards invitations.
Loading ...
Hugs!
P.S. Thanks for taking the time!
(No Ratings Yet)
Loading ...