Contests
THIS CONTEST IS NOW CLOSED! STAY TUNED FOR ANOTHER ONE SOON!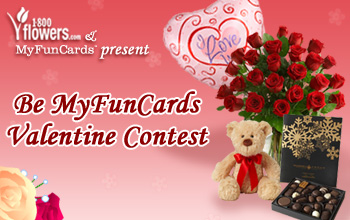 It's the season of cupids and candies, all right, and love is in definitely in the air around here! I don't care if you're single, dating or hitched, everyone deserves to enjoy Valentine's Day. So, we've teamed up with 1-800-flowers.com to offer you a really sweet Valentine's Day deal!
The Be MyFunCards Valentine Contest begins this Monday, January 31 and ends Friday, February 4. Each day I'll post a trivia question in the morning. You'll have 12 hours to find the answer and to submit it (using a valid email and your real name) as a comment on that day's post. Everyone who posts the correct answer will be eligible to win for that day. We'll pick one winner at random from among the people who have given the correct answer for that day.
In order to make sure everyone's playing fair, I'm going to set the comments to invisible until late in the day. Don't worry, I've made the questions really easy to answer. You've just got to be willing to look them up on the MyFunCards site. And believe me, it'll be worth it!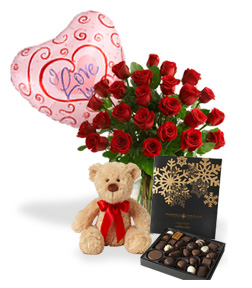 Our five lucky winners will receive an amazing display of two dozen long-stemmed roses, a box of chocolates, a stuffed teddy bear and a balloon. Click the little picture to the right to see it even bigger. It's an amazing prize worth over $180, courtesy of our friends at 1-800-flowers.com. You can have it sent to yourself or you can choose to send it to the one you love. It's entirely up to you!
Now, I feel kinda like an infomercial saying this: BUT WAIT… THERE'S MORE!
As a special "I Love You" to all of you, our simply amazing friends, we're also going to provide everyone with an exclusive, limited-time-only code to get a discount at 1-800-flowers.com! Click here to get the code!
Be sure to read all of the contest rules before the contest begins to make sure you're eligible and that you don't disqualify yourself by doing something silly.
Stay tuned!
Hugs!
P.S. UR A QT!
(
8
votes, average:
3.75
out of 5)
Loading...