You Contribute
THIS CONTEST IS NOW CLOSED! STAY TUNED FOR ANOTHER ONE SOON!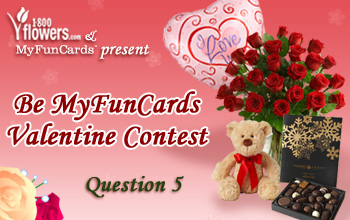 Good morning MFC friends! This is the last day of the Be MyFunCards Valentine Contest!
Remember that in order to enter the contest, you need to respond here on this Post Scripts page by adding your answer as a comment. Answering anywhere else will NOT count.
Don't worry if you don't see it appear. I'm keeping things fair by hiding your answers so everyone has a fair chance to get it right. You can guess as many times as you like. If you answer correctly, you'll be entered into that day's sweepstakes randomizer. One person will win each day, and you can only win once.
Please make sure you read all of the contest rules before answering each day to make sure you're eligible and that you don't disqualify yourself by doing something silly. And just another reminder that all of these questions are about cards you can send from the MyFunCards site.
Okay, are you ready to win this incredible Valentine's Day gift package from 1-800-flowers.com?! Let's get to it!
Here's the final question:

Hugs!
P.S. Good Luck!
(
5 votes, average: 4.00 out of 5, rated
)
Loading ...