Archive for
March, 2012
Can you believe it's almost April? The even crazier thing is that Easter is on the eighth this year- so early! Luckily, here at MyFunCards, we're already prepared for the bunnies, candy baskets and Easter greetings. So, before you begin shopping for your holiday outfits and hiding your plastic eggs, be sure to cover your bases by sending thoughtful Easter eCards to the important peeps in your life.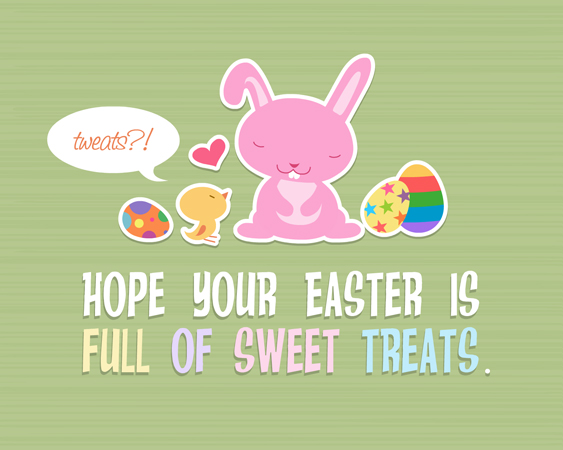 From bright bows and pastel paintings to sweet chicks and religious wishes, MyFunCards has got plenty of Easter eCards for everyone. Send a laugh, a kind word or a candy-filled wish to the ones you love with just the click of a button.
OMG! How could I forget… MyFunCards also has some Easter chuckles in store for you with 'Be a Bunny'! Add your face (or someone else's face) to a hilarious video eCard for Easter and watch your somebunny special perform a very special hop. Select the card you like, how many faces you'd like to fill and enjoy! Act fast, though…Easter is just around the corner and these babies won't send themselves!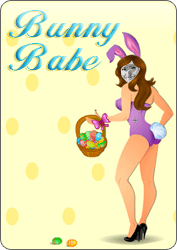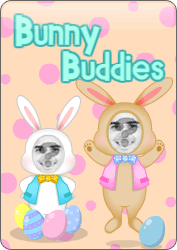 (No Ratings Yet)
Loading ...
Like macaroni without cheese and a cookie without milk, what's a Facebook page without loyal followers?! Right now, it's my pride and joy, Social Crumbs. Social Crumbs has been created to help you get the freshest, cutest content from some of your favorite sites, including MyFunCards.com (swoon), Webfetti.com, PageCraze.com, CoverFanatic.com and more. But where are YOU?! We've got the greatest fans in the world, but you seem to be hiding from our Facebook page. (It's okay, we don't bite!)
We've taken the content that you know and love the most (and the content you can't stop talking about) and have created a Facebook page that gives you quick access to these little slices of social heaven.
While I clean up crumbs from the blueberry pie I just made, show us some love and head on over to Social Crumbs. I'll see you there!
(
1 votes, average: 5.00 out of 5, rated
)
Loading ...
Long time, no talk!
Spring is in the air (as well as a whole lot of pollen) and I couldn't be more excited for the beautiful weather, even if it means itchy eyes every once in a while. There's something about seeing blooming daffodils and fireflies in the evening sky that just makes my heart tingle. Not to mention, spring fashion this season is SO amazing.
When I was younger, I would always get "Happy Spring!" cards from my Grandparents, and they never failed to put a giant smile on my face. I knew that warmer weather was around the corner AND I felt special that they took time to pick out a card suited just for me. Part of my New Year's Resolution was to send more eCards to my friends and family to let them know they're in my thoughts throughout the year, so lucky for me, MyFunCards has just come out with some ADORABLE (and sassy) Spring eCards.
Here are some of the eCards I plan on sending ASAP:
This sweet one is for my niece: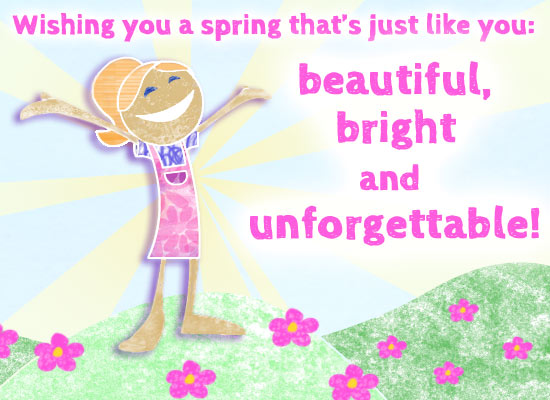 This cutie is for my sister, Deb: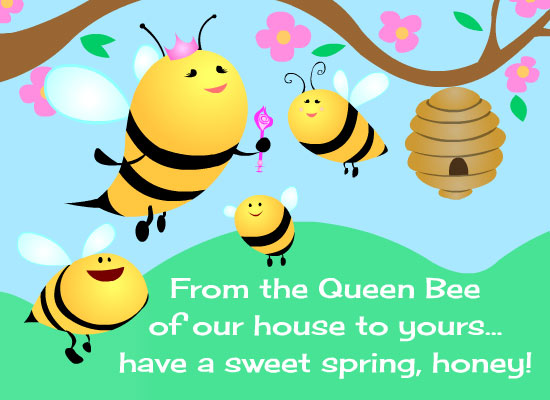 And this hilarious bad boy is for my partner-in-crime, Addison: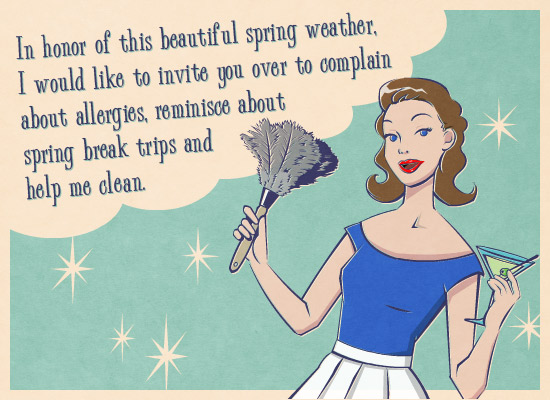 Great, right? I can't get enough. Check out more fun Spring eCards here on MyFunCards.com. The sooner you start sending, the sooner you'll be delivering smiles! Have an awesome rest of your day (and don't forget to throw some tissues in your purse for that pollen).
(No Ratings Yet)
Loading ...