Archive for
October, 2010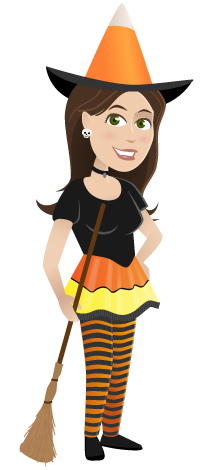 Well, it's finally here! I know I've pretty much been celebrating today all month long, but finally it's completely appropriate to say "Happy Halloween, everyone!"
This has been a truly action-packed Halloween month. Making fun new cards, decorating the site as well as my workspace, baking cupcakes and blogging about it and best of all… giving away  some really fun candy basket prizes! Not to mention that TV has been awesome this season, showing some of my favorite Halloween movies of all time.
It's true that I'm a fan of some hardcore horror flicks. I'm a sucker for zombies and vampires, and last year I went to see all five "Saw" movies in one sitting! I love the classic mind-twisters, too. But to be truthful, it's really the fun, funny and for-the-most-part family-friendly ones that scream "HALLOWEEN SPIRIT" in my book.
A few of my faves are:
"It's the Great Pumpkin, Charlie Brown"
"Nightmare Before Christmas"
"Shaun of the Dead"
"Beetlejuice"
"Ghostbusters"
"Wallace & Gromit: The Curse of the Were-Rabbit"
But now that the big day's here, it's time to get off my couch out and go mingle. Well, okay, I'll be honest. I'm technically going to a Halloween party, but it's really just an excuse to get together and watch the premiere of "Walking Dead."
What about you? What are your plans this fine , fiendish evening? I'd love to know what all of you are up to too! Feel free to check as many as are true!
Loading ...
Hugs!
P.S. BOO!
(No Ratings Yet)
Loading ...